Pumpkin Chocolate Chips & Orange Zest Cake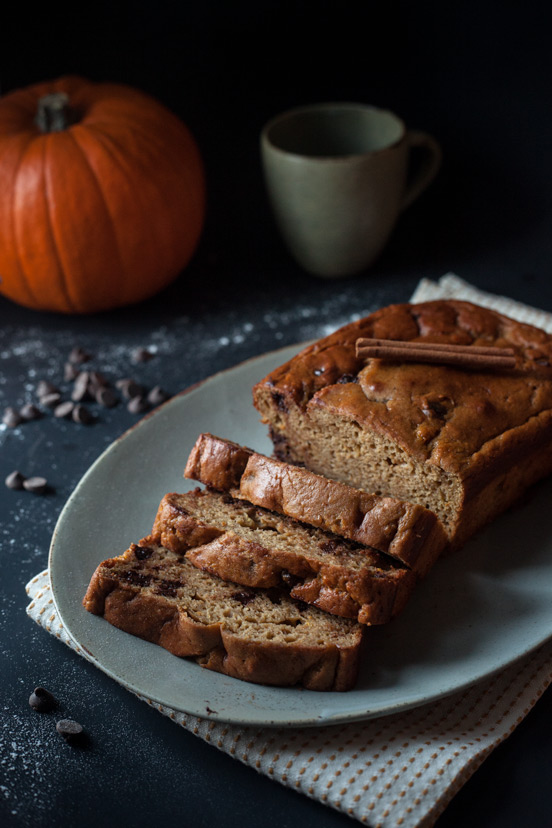 7 days and 6 pumpkins later, our pumpkin week is coming to an end. We discovered a great ingredient to cook with and no longer will it be ignored when we go grocery shopping. Pumpkin is not the kind of product that is great on its own but combined with the right ingredients, it can be delicious. Possibilities are endless but here are a few ideas if you've missed them:
To end this week on a sweet note, here's a delicious pound cake recipe. It's perfectly moist, fragrant and it has chocolate! Orange and chocolate are like best friends, they go together so well! I can't wait to make chocolate covered orange peel again this year.
Concerning the blog, we just added email updates so if you like our recipes, don't hesitate to subscribe. Also, Nico has been working on improving the usability of the blog. You now have a better way to browse all our recipes and it's all here.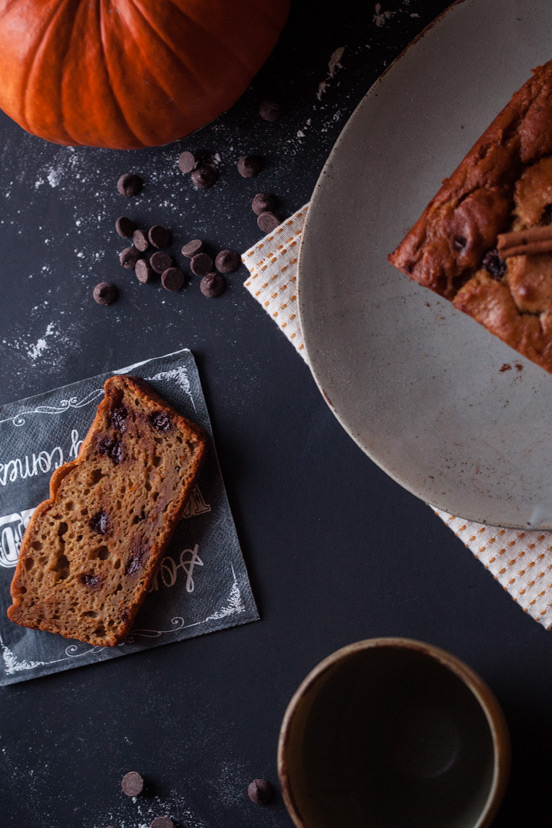 Note: Recipe adapted from Starbucks Pumpkin Pound Cake by Something Swanky.
Pumpkin & Orange Zest Pound Cake
Ingredients
1 1/2 cup all-purpose flour
3/4 cup brown sugar
1 organic orange zest
1/2 cup semi-sweet chocolate chips
1/2 tsp baking soda
1/2 tsp baking powder
1/4 tsp ground nutmeg
1/4 tsp ground cloves
 1/2 tsp cinnamon
1/2 cup vanilla yogurt
1 cup pumpkin purée
2 eggs
1/2 tsp salt
Instructions
Preheat oven to 350F. Butter loaf pan and store in fridge.
Sift flour, cinnamon, nutmeg, cloves, salt, baking soda and baking powder in a medium bowl. Mix and set aside.
In a large bowl, using a hand mixer whisk eggs, sugar and yogurt until well blended. Add in pumpkin purée and orange zest, mix until combined.
Slowly add flour mixture while stirring with spatula until incorporated. Add chocolate chips and stir to combine.
Take the pan out from the fridge and dust with flour. Shake off excess flour.
Pour the batter into loaf pan and bake for approximately 60 minutes.
Place on rack to cool. Serve at room temperature.