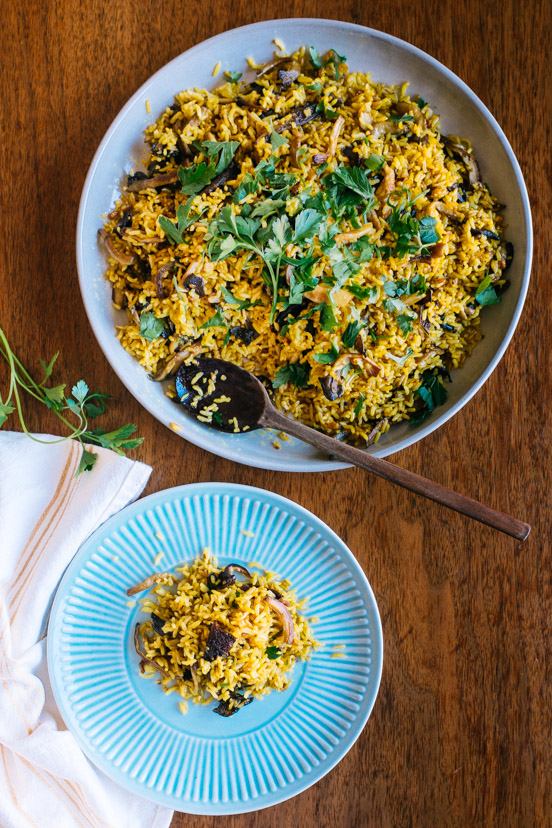 I'm a huge garlic lover. I like them prepared in all forms, raw, cooked, fermented, you name it. This dish is packed with garlic and oyster mushroom. It is a simple nutritious meal. Mushrooms in general are high in antioxidants, vitamins and minerals. Oyster mushrooms are one of the mushrooms containing the highest protein content, 100g contains 3.3g of protein. This mushroom has a meaty texture. My kids said it smelled like chicken when i was cooking this dish. Turmeric is potent in anti-inflammatory and antioxidant. Cumin aids in digestion and is rich in iron. All the components of the dish makes it a wonderful immune support meal!
Make sure to add a generous amount of oil when cooking the mushrooms, you want it to have a slightly crunchy texture.
Garlic mushroom rice
For 2 people or 1 super hungry one
Ingredients
1 cup brown rice, uncooked
300-400g oyster mushroom
½ - 1 bulb garlic
1 tsp ground cumin
1 tsp ground turmeric
Salt and ground black pepper
Avocado or coconut oil
Parsley, garnish
Instructions
Wash and soak brown rice in water overnight, drain and rinse the next morning. Cook according to package instructions.
Mince garlic, set aside.
Use your hand to tear bigger pieces of mushrooms into smaller pieces.
Heat up a pan in medium high heat, add oil.
Sear mushrooms in batches, season with salt and pepper. Transfer onto a plate.
Turn down the heat to medium, add oil and minced garlic, cook until slightly golden (careful not to burn them).
Add rice, mushroom, turmeric, cumin, salt and pepper. Give a good stir, taste and adjust seasoning.
Transfer onto a plate and garnish with chopped parsley. Enjoy!