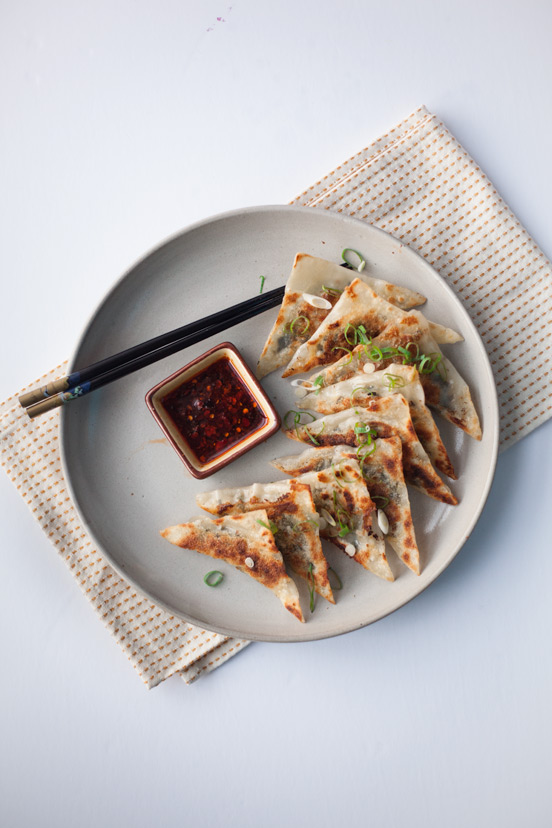 Lately we've been craving for pot stickers. We also wanted to write a recipe for pot stickers since the first day we started this blog. The timing was perfect so we spent a good part of the weekend handcrafting these delicious dumplings. Nico suggested that we use kale and corn for the filling. I have never seen kale used in chinese cuisine but after giving a try I am very satisfied with the results.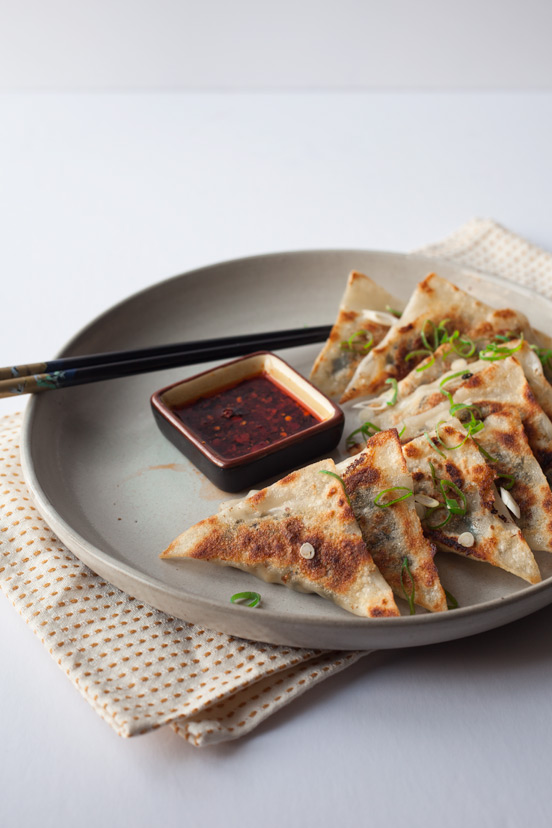 These little pot stickers are crunchy, slightly chewy and the filling works perfectly. To go with them, I made a simple dipping sauce with black vinegar and chilli bean sauce. If you don't have these ingredients on hand, a mix of soy sauce and sriracha makes a good alternative.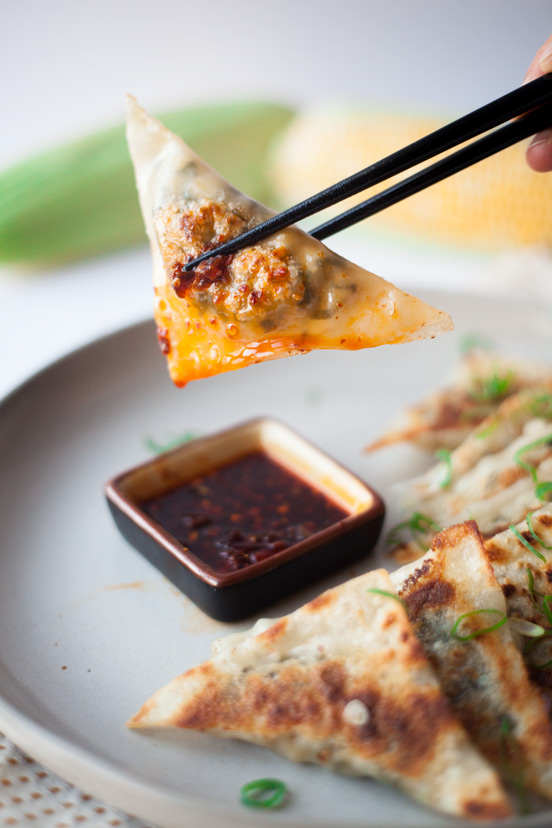 To shape the dumplings, I just folded square wonton wrappers into triangles. It's a simple shape that requires no special skill. Of course, you can use other shapes, just make sure to seal the dumplings properly.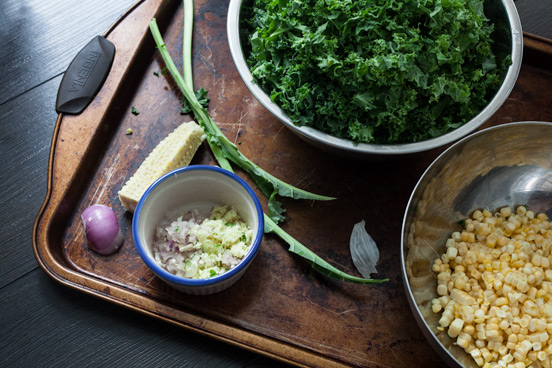 Nico's wine pairing: Riesling is often suggested for asian cuisine and it would be a good choice for these pot stickers. The residual sugar of the wine should pair well with the corn.
Kale & Corn Pot Stickers
Makes 2 dozens
Ingredients
4 cups chopped organic kale (stems removed)
2 ears corn, cobs removed
3 cloves garlic, minced
1/2 shallot, minced
1/2 tsp sesame oil
2 tbsp olive oil + 1 tbsp (for pot stickers)
salt and pepper
1/4 cup water + 1/2 cup (for pot stickers)
1 package square wonton wrappers
Dipping sauce
2 tbsp chinese black vinegar
1 tsp chilli bean sauce
Instructions
Heat a large pan with olive oil on medium high heat. Cook garlic and shallot until soft.
Reduce heat to medium. Add kale and corn. Stir, add water and cook with lid for about 5 minutes or until soft and water has evaporated.
Remove from heat and add sesame oil. Season with salt and pepper. Set aside until cooled down.
Wet your index finger with water and slide through the sides of wonton wrapper. Scoop 1 tablespoon of kale filling onto the center of the wrapper. Fold the wrapper in half to form a triangle shape. Use you thumb and index finger to seal the sides. Make sure to seal it as tight as possible.
Heat large pan with oil on medium high heat, place pot stickers onto the pan. Add water, cover and cook for approximately 5 minutes.
Remove lid, let water evaporate and cook until golden and crispy.
Mix black vinegar and chilli bean sauce in a small bowl. Serve pot stickers with the sauce.