5 Minute Whole Grain Loaf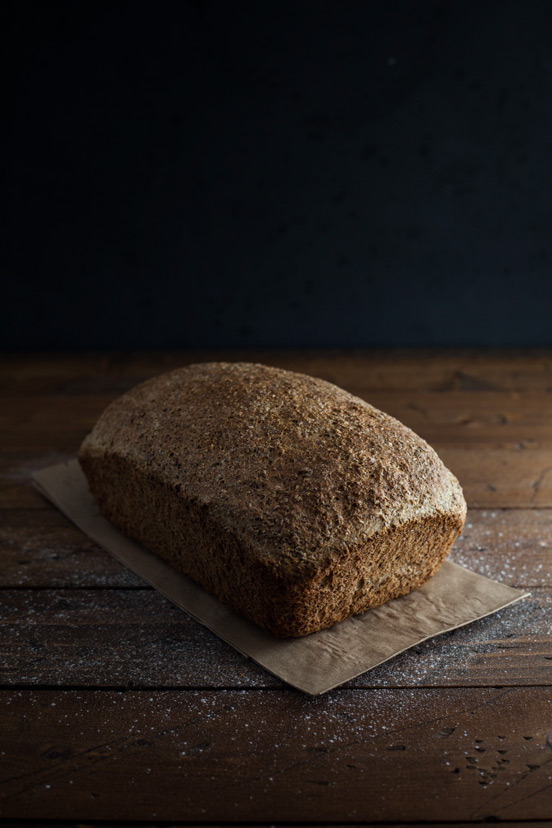 Few months ago, we decided to start making our own bread at home. There were many reasons for this change to happen. I guess the question was: Can we buy quality bread that doesn't cost an arm and a leg, all within walking distance? If we lived in France, I would probably answer yes. In fact, Nico's parents have the chance to live near a bakery with a MOF (Meilleur Ouvrier de France, a hard earned title of best artisan baker) who makes wonderful bread. Their baguette is amazing and cost less than a $1.50. Such a deal cannot be found in Toronto, and probably North America. Artisan bread is just too fancy of a thing here. No one is to blame for that, it's just that bread is not as essential as it is in France.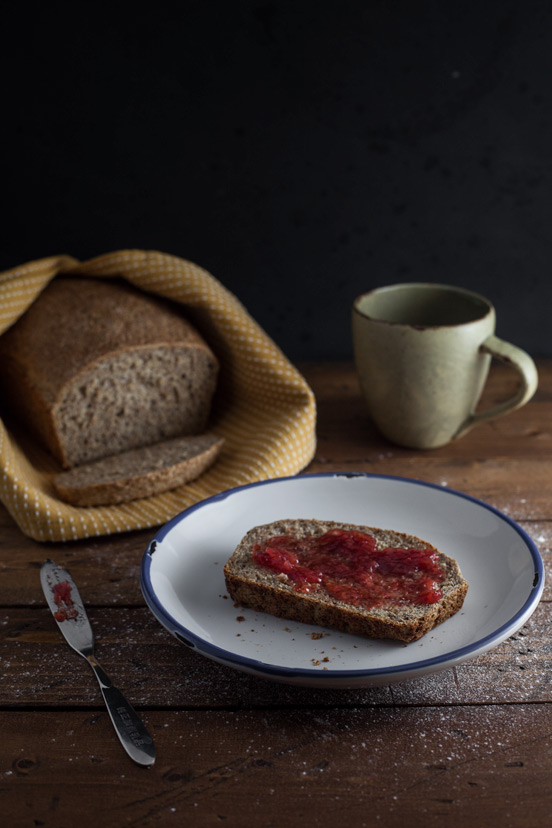 All that wouldn't be much of a problem if I wasn't turning into the bread eaters that are my son and husband. Yes, we eat a lot of bread and it starts with a slice of bread spread with jam or butter for breakfast. My favorite bread for that is a simple whole grain loaf. It's made with equal part all-purpose flour, whole wheat flour and a mix of grains and seeds. The result is a much more healthy and tasty bread than the store-bought one. But the true wonder is that it takes little to no time to make. It takes me 5 minutes of preparation, the rest is just waiting and baking. It would take me longer to go to the store and buy it.
This recipe is for a basic loaf. It can be easily adjusted to your preferences. Feel free to add or substitute with other nuts and cereals, or even dried fruits.
Recipe adapted from Honey Whole Wheat Bread by Summer Harms. 
5 Minute Whole Grain Loaf
Makes one 9×5 inch loaf
Ingredients
1 1/2 cup all-purpose flour
1 1/2 cup whole wheat flour
1/2 cup flaxseed meal
1/2 cup wheat bran
1/2 cup barley flour
2 1/2 tsp active dry yeast
1 1/2 cup warm water
1/4 cup honey
1 1/2 tsp salt
Instructions
Mix yeast, water and honey in a stand mixer bowl. Rest for 20 minutes.
Combine all-purpose flour, whole wheat flour, flaxseed meal, whole bran, barley flour and salt in a bowl. Add to yeast mixture.
Turn the stand mixer on low to combine, increase to medium low and knead for 5 minutes. It should be slightly sticky.
Transfer dough to a large oiled bowl, cover with plastic wrap and proof for 1 hour.
Punch the dough and shape into a loaf. Transfer to an oiled loaf pan, cover loosely with plastic wrap and proof for 45 minutes.
Preheat oven to 375F. Bake for 40 minutes.
Allow the bread to cool down for 15 minutes in loaf pan then transfer to a cooling rack.